Meet SmartVision 3, the Android with a T9 keypad for the visually impaired | Technology News
The average Android phone now offers tons of options within its Accessibility settings, particularly for the visually impaired, but using a button-less phone can still be difficult. Sure, there are still a few options like Blackberry available to purchase from certain platforms, but considering the last phone from the brand released back in 2018, those models may now be out of date.
For blind and visually impaired consumers, Raz Mobility's SmartVision 3 may therefore be a better option. The phone, which carries the look of a souped-up 12-button phone, is actually powered by Android, complete with a dedicated hardware key for summoning Google Assistant.

It also has a large T9 keypad that lets you type easily and accurately, as well as physical navigation keys that let you explore the OS without touching the screen. Of course, you can also use the touchscreen if you want, and it works well with TalkBack.
The SmartVision 3 also comes with a range of vision tools including a banknote recogniser, book reader, colour detector, Kapten navigation app, light detector, and magnifier. It even includes 5 NFC tags that you can use to label things or perform actions, like calling a number.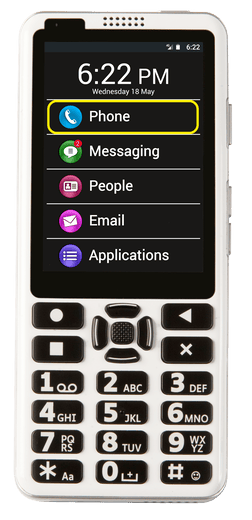 A T9 keypad for a more tactile typing experience. (Image: Raz Mobility)
Another cool feature of this phone is wireless charging. You don't have to worry about finding the right cable or port to plug in your phone. Just place it on a wireless charging pad and let it charge at 5W. The battery capacity is 3,500mAh, which should last you for a while.
Dedicated accessibility features aside, the phone has a more-or-less mid- to entry-level spec sheet. There's a 2019-era Helio P70 budget processor without 5G support, 4G RAM, 64GB storage, and a 3.5-inch screen with a 640×960 resolution. The phone also features a 3.5mm headphone jack, which is rare these days.
For photography, the phone has a dual rear camera setup with a 16MP main sensor and a 2MP depth sensor. The front camera is 5MP and can take selfies or video calls.
The biggest downside of the SmartVision 3 is the price. It costs $539 in the US, or $599 if you want the wireless charging pad included. That's quite expensive for such humble specifications, but the phone is one of the few Androids that cater to the needs of blind and visually impaired users, so we are glad that it exists.