Service dog saves the day for owner with rare medical condition
A woman diagnosed with a rare medical condition has her quick-thinking service dog to thank when a health episode strikes. 
A symptom of Katie Graham's POTS condition – postural orthostatic tachycardia syndrome – affects the blood volume when standing up. Australian shepherd Bailey is trained to detect when Graham's heart rate rises to an "unsafe" level through smell. 
As seen on video, when Graham stands up, Bailey alerts his owner by jumping on her and getting her to sit down. The rescue pup can then retrieve her water and medication. 
OREGON DEPUTY MAKES 'MIRACULOUS' RECOVERY AFTER BEING SHOT MULTIPLE TIMES IN HEAD, CHEST: 'SECOND CHANCE'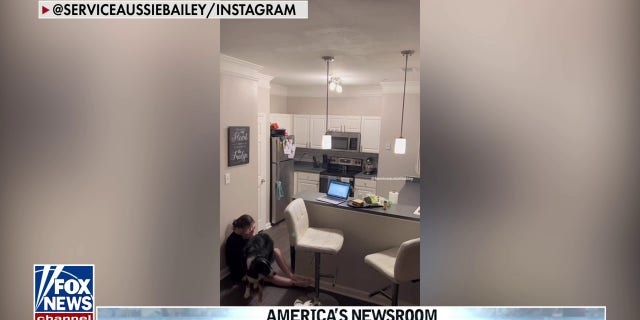 "He has such a drive that nothing will get in his way," Graham told "America's Newsroom" Friday.
Graham said Bailey recognizes her unsafe heart rate level through scent. She said the body gives off a certain pheromone when experiencing stress and sudden changes. She taught Bailey how to recognize that pheromone, and when he smells it, he knows to react. 
Graham said she trained Bailey herself after getting him at eight weeks old. 
Bailey also provided deep pressure therapy to help circulate Graham's blood flow. She explains that many POTS patients experience fainting episodes because of blood pooling.   
POTS affects .2% of Americans, with 75%-80% are female, according to the National Library of Medicine. 
Graham told co-host Dana Perino that due to the recent discovery of POTS, finding a POTS-specific service dog is difficult. However, she said finding the right tempered dog and a good trainer can allow for a great service dog like Bailey. 
For more Culture, Media, Education, Opinion, and channel coverage, visit foxnews.com/media.