Ecuador officials, FBI seek answers in candidate's murder; party taps new prospect
Days after an Ecuadorian presidential candidate was assassinated, the backing party, on Sunday, has tapped a new candidate to take his place and the FBI is working with officials to find out who was behind the murder.
Fernando Villavicencio, 59, was killed in an armed attack after a rally in the country's capital last Wednesday, and according to reports, he had received at least three death threats leading up to the fatal shooting.
The candidate's murder sent shockwaves through the country, with a population of about 18 million, which has seen a sharp spike in transnational criminal gang crime over the past few years.
Villavicencio was a journalist who investigated corruption from previous governments before entering the ring as a politician and anti-graft campaigner who vowed he was not afraid of the gangs, even though he received threats.
ECUADOR PRESIDENTIAL CANDIDATE FERNANDO VILLAVICENCIO RECEIVED 3 DEATH THREATS BEFORE KILLING, ADVISOR SAYS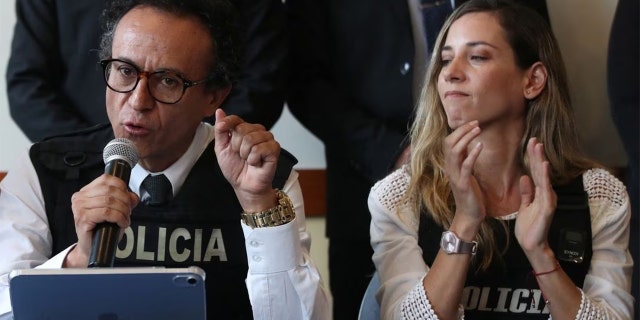 Interior minister Juan Zapata told reporters on Sunday that local police leaders and the FBI had already met and planned to meet with prosecutors leading the investigation into Villavicencio's death.
So far, six Colombian nationals accused of having ties to criminal groups, have been charged with the crime and remain in custody. A seventh suspect died shortly after the candidate's murder in an exchange of gunfire.
ECUADOR PRESIDENTIAL CANDIDATE FERNANDO VILLAVICENCIO ASSASSINATED AT CAMPAIGN EVENT 
Earlier in the day, leaders of the Build party, or Construye in Spanish, announced Christian Zurita would replace Villavicencio as the party's top candidate.
The decision came a day after party leaders chose Andrea Gonzalez, the would-be vice-presidential candidate, to replace Villavicencio in the Aug. 20 vote.
Like Villavicencio, Zurita is a journalist who had collaborated with the slain candidate. Zurita's candidacy must be approved by the national electoral council.
CLICK HERE TO GET THE FOX NEWS APP 
"We're going to try to emulate his abilities and we're going to try to emulate his name," Zurita, who was wearing a bulletproof vest, said at a press conference.
Reuters contributed to this report.