Bitcoin price dramatically crashes amid market worries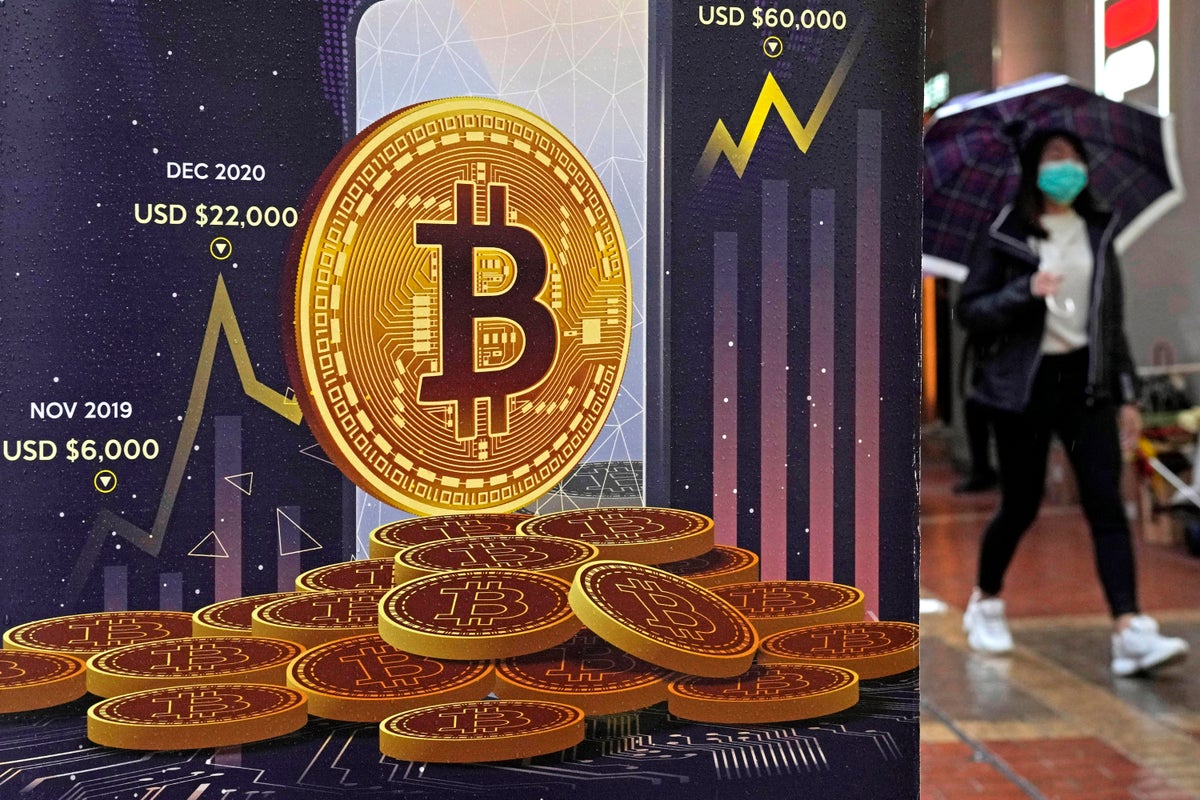 Bitcoin's price has crashed dramatically, amid what seems to be a broader worry in the financial markets.
The world's biggest cryptocurrency has fallen more than 7 per cent over the last 24 hours, and almost 12 per cent in the last week.
Other large digital currencies saw similar falls, though not as stark. Ethereum, the second biggest cryptocurrency by market cap, has lost around 10 per cent of its value in the last week.
The troubles mean that the crypto market as a whole is down 5.7 per cent over the last 24 hours, according to tracking website Coinmarketcap. Trading volumes increased sharply, too, and were up almost 80 per cent over the last 24 hours.
Thursday's drop in the price of the cryptocurrency was the biggest one day fall since November 2022. That happened when large exchange FTX collapsed, sending shockwaves through the crypto markets and leading to widespread fears.
This time around, there was no obvious connection to events in the cryptocurrency market. Instead, investors seemed concern about the economy more generally, and more traditional assets were also hit by falls in recent days.
Wall Street's main indexes fell on Friday, extending declines to the fourth session on a drag from megacap growth stocks, as evidence of a resilient U.S. economy fanned fears of interest rates staying higher for longer.
The three main US stock indexes are on track for sharp weekly losses as a spate of strong economic data, including a fall in weekly jobless claims, caused investors to dial back expectations of rate cuts and drove up government bond yields.
The yield on the 10-year Treasury note hit a ten-month high of 4.328 per cent in the previous session and came within a whisker of its highest level since 2007.
"The drivers really have been of late the rising Treasury yields and that is signaling a more risk-off investor sentiment," said Art Hogan, chief market strategist at B Riley Wealth.
"Investors are looking at (better-than-expected economic data) and saying the Fed likely isn't restrictive enough yet."
Traders see a nearly 91% chance of the Fed holding rates at current levels at its September meeting, according to the CME Group's FedWatch tool.
On Friday, rate-sensitive big technology and growth stocks such as Apple, Microsoft, Tesla and Nvidia slipped between 0.7% and 2.8% even as Treasury yields took a breather.
The communication services and technology sectors housing major growth stocks fell 1.6% and 1.0% respectively.
The tech-heavy Nasdaq hit an over two-month low and is set to post the biggest weekly declines of the three major indices, down 3 per cent so far.
The CBOE volatility index hit its highest in nearly three months, reflecting rising investor anxiety.
Additional reporting by Reuters