Mumbai to see highest rise in prime residential property prices globally: report | Business News
Mumbai, which recorded the sixth highest year-on-year growth in prime residential property prices among global cities in the April-June period of 2023, is forecast to record the highest annual price at 5 per cent for the year 2024.
In the April-June period of 2023, prime residential prices in Mumbai grew at 5.2 per cent year-on-year (YoY). With an increase of 3.6 per cent YoY in Q2 2023, Bengaluru ranked 20th and New Delhi positioned itself at 26th with an increase of 0.2 per cent YoY, says Knight Frank in its report 'Prime Global Cities Index Q2 2023'.

Dubai completed eight quarters at the top position globally with an increase of 48.8 per cent YoY in prime residential properties values. The average annual growth rate reached 1.5 per cent across the covered markets that indicates a positive shift after a recent period of uncertainty, the report said. After Dubai, Tokyo registered a 26.2 per cent increase, Manila 19.9 per cent, Miami 7.5 per cent and Shanghai 6.7 per cent in April-June of 2023.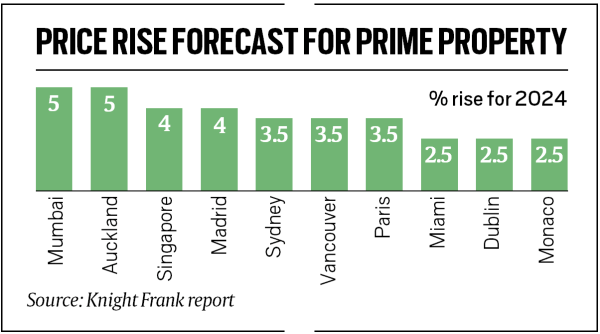 The Prime Global Cities Index is a valuation-based index tracking the movement of prime residential prices across 46 cities worldwide. The index tracks nominal prices in local currency.
Knight Frank said Mumbai and Auckland would lead the highest change in prime residential prices. Both cities are forecast to experience an increase of 5 per cent in the year 2024. Improving GDP figures, the city's relative value and investment in infrastructure will be the prime influencers in pushing prices higher for the luxury housing market of Mumbai, it said.
The average price for 26-global prime residential markets is expected to grow at 2 per cent in 2024.
Shishir Baijal, Chairman and MD at Knight Frank India said, "Against the backdrop of sluggish global growth and worries about inflation that defined a significant portion of 2023, the Indian economy stood out as a remarkable achiever." While central banks in major developed economies around the world were announcing unprecedented policy rate hikes, the Indian economy, demonstrating stronger growth momentum and better control over inflation, managed to maintain stability in its policy interest rates over the last two quarters.