Joe Burrow, Bengals roll through Bills to win fourth straight game
The Cincinnati Bengals continue to roll, taking down their AFC rival Buffalo Bills, 24-18, on Sunday night at Paycor Stadium. 
The last time these two teams met was a tragic Monday night in January when Bills safety Damar Hamlin suffered a cardiac arrest. As you'd expect, it was an emotional return for No. 3, who was inactive in this game.
When the ball was kicked off and reflection turned into focus for everyone on the field, the Bengals quickly got to work. Joe Burrow was ice cold on the team's first drive of the game, going 6-for-6 through the air and eventually finding Irv Smith Jr. for a seven-yard touchdown. 
CLICK HERE FOR MORE SPORTS COVERAGE ON FOXNEWS.COM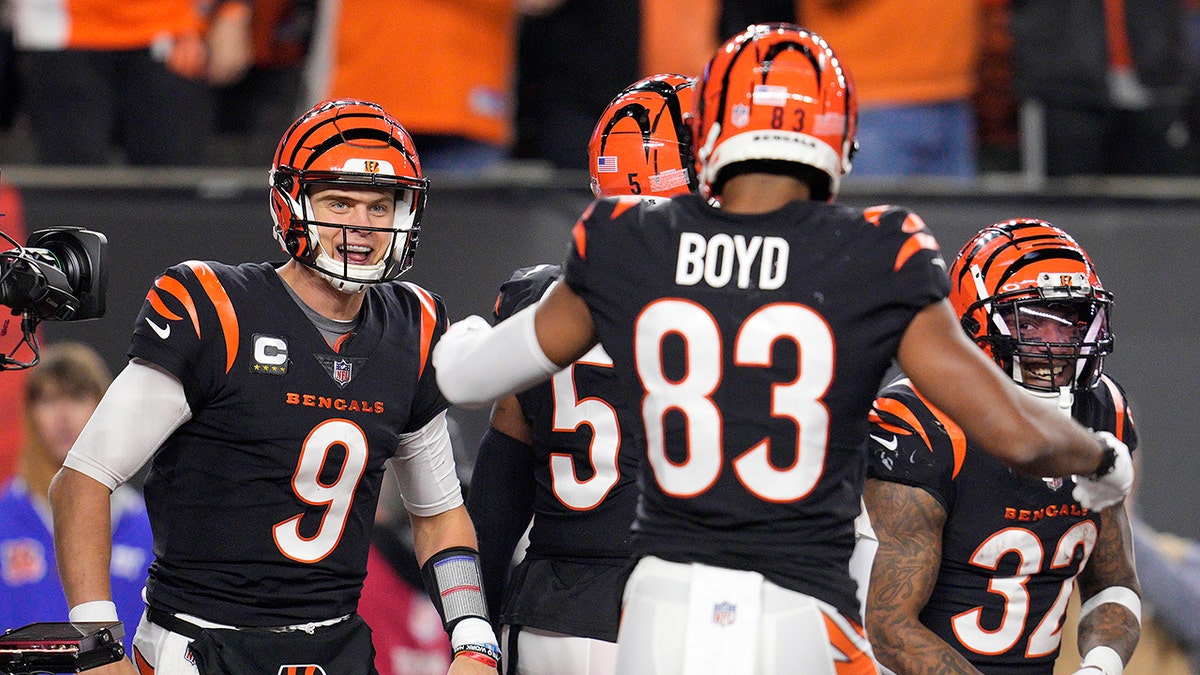 This game quickly became a shootout when the Bills took over on their first drive. Josh Allen found the end zone with his feet instead of his arm after driving 85 yards to match the Bengals. 
But Burrow was quick to find the end zone again, this time using Joe Mixon, his trusty running back, on third-and-goal to retake the lead.
That's when both offenses began to stall a bit. Four total punts with an Allen interception mixed in led to no points for either team until Burrow had prime field position at Buffalo's 45-yard line after the Bills were forced to punt from deep inside their zone. 
BILLS' DAMAR HAMLIN DISCUSSES FIRST RETURN TO CINCINNATI SINCE CARDIAC ARREST: 'I'M WALKING IN WITH COURAGE'
What looked to be a broken play on third-and-7 from Buffalo's 22-yard line led to a Drew Sample 22-yard catch-and-run to put the home team up 14-7 before the end of the half. 
The second half wasn't as eventful for either squad, as defense kicked on both ways. The Bengals got a key stop in their own zone to force a field goal to begin the third quarter, making it a 21-10 game. 
Then, after turning the ball over on downs, the Bengals' defense picked up the offense by forcing a fumble on Bills tight end Dalton Kincaid. He went airborne on first-and-10 from the Cincinnati 22-yard line, and before landing, the ball was knocked out of his arms and recovered by the Bengals. That eventually led to an Evan McPherson field goal to push the lead to 24-10.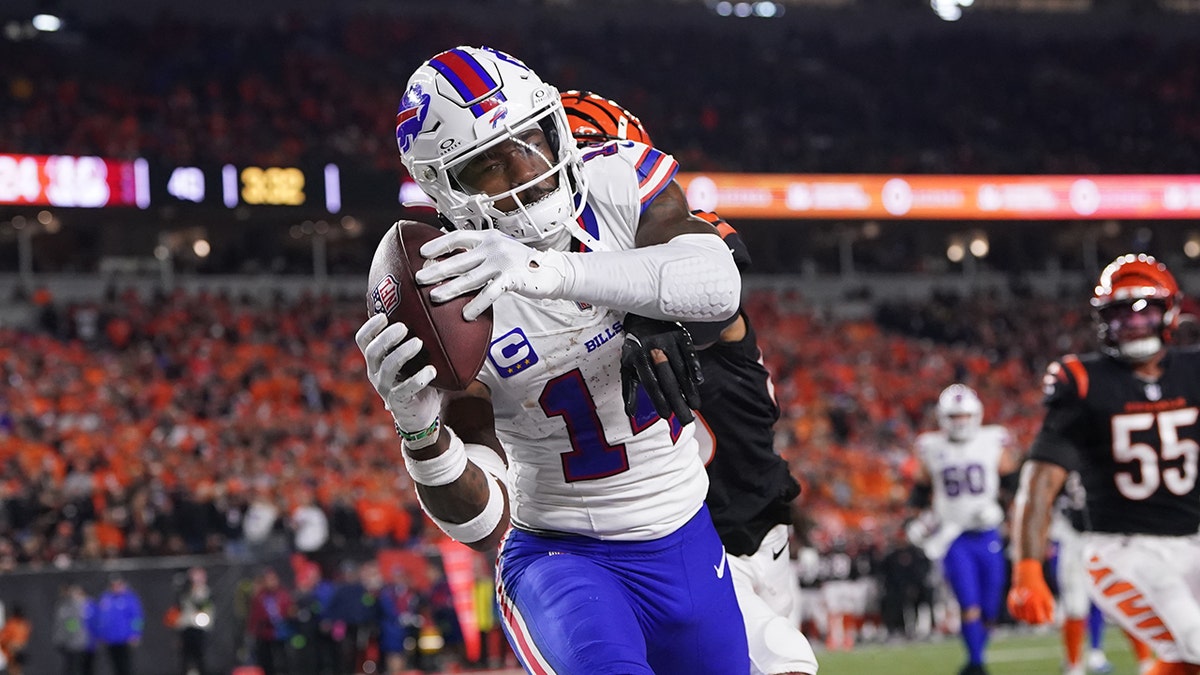 But, as Buffalo has done before, they're never going to give up when Allen has the ball and there's time on the clock. 
The Bills used up 4:36 of clock in the fourth quarter to eventually find star receiver Stefon Diggs in the end zone on a 17-yard strike from Allen. 
However, the Bills defense couldn't get the ball back in his hands. Burrow and his crew killed the final 2:54 left in the fourth quarter, picking up key first downs to seal the victory and four straight wins in a row to move to 5-3. The Bills own the same record now as well. 
Burrow had a fantastic game through the air, collecting 348 yards and two touchdowns on 31 of 44. His top receiver wasn't Ja'Marr Chase, who had four catches for 41 yards, but rather Tee Higgins. He hauled in eight of his nine targets for 110 yards. 
For the Bills, Diggs led the way with 86 yards on six catches, and Kincaid finished with 10 catches for 81 yards.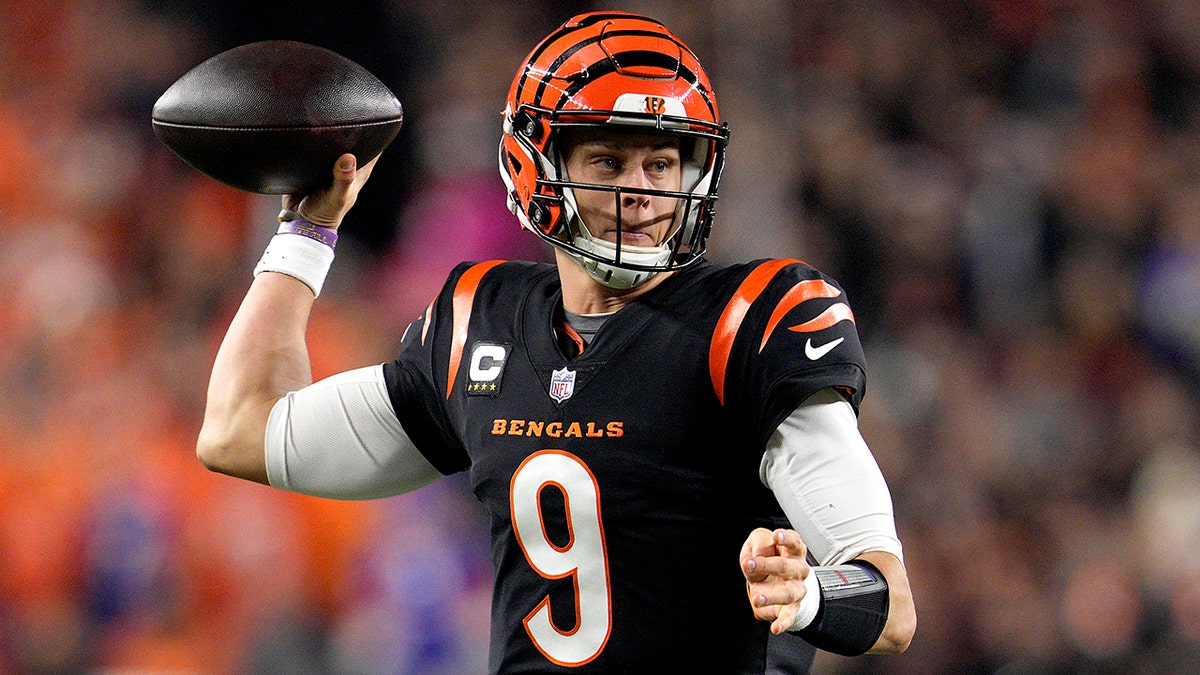 CLICK HERE TO GET THE FOX NEWS APP
The Bengals will look to push that win streak to five straight games next Sunday when they host the Houston Texans. Meanwhile, the Bills will be in primetime yet again next week at home against the Denver Broncos.