UPSC Essentials | One word a day — UCCN, the UNESCO's network | UPSC Current Affairs News
UPSC Prelims 2024 season has begun, and we are sure you want to have an Express Edge. To ensure your preparations have that extra edge, take a look at the essential concepts, terms, and phenomena from the static and current parts of the UPSC-CSE in our UPSC Essentials' One word a day. Also don't miss Point to Ponder and Post Read MCQ which will help you to self-evaluate your retention memory after reading the article. Go Beyond the term and know.
Word: UCCN
Subject: Culture, International Organisation
WHY IN NEWS?
—  The city of Gwalior in Madhya Pradesh and Kozhikode from Kerala was among the 55 new cities to join the UCCN network.
KEY TAKEAWAYS
—  The UNESCO Creative Cities Network (UCCN) was created in 2004 to promote cooperation among cities that have identified creativity as a strategic factor for sustainable urban development. It now includes 350 cities in over a hundred countries.
—  The network is aimed at leveraging the creative, social, and economic potential of cultural industries. It was launched to promote UNESCO's goals of cultural diversity and strengthen resilience to threats such as climate change, rising inequality, and rapid urbanisation. It encourages a culture of creativity in urban planning and solutions to urban problems.
— Apart from Kozhikode and Gwalior, Varanasi (music), Srinagar (crafts and folk arts) and Chennai (music) are part of the network.
Which creative fields does it cover?
— Crafts and Folk Art, Design, Film, Gastronomy, Literature, Media Arts, and Music.
What are the objectives of UCCN?
— The UNESCO Creative Cities Network allows member cities to recognise creativity as an essential component of urban development, notably through partnerships involving the public and private sectors and civil society. It envisages to develop hubs of creativity and innovation and broaden opportunities for creators and professionals in the cultural sector. These cities have to achieve the UN agenda of sustainable development.
What are the areas of action?
— The objectives of the network are implemented both at the level of the member cities and at the international level, notably through sharing experiences, knowledge and best practices. There are professional and artistic exchange programmes, research and evaluations on the experience of the creative cities, among other activities.
JUST FYI
— UNESCO has shared the full list of the new 55 cities which include Bukhara – Crafts and Folk Art, Casablanca – Media Arts, Chongqing – Design, Kathmandu – Film, Rio de Janeiro – Literature, and Ulaanbaatar – Crafts and Folk Art.
— World Cities Day designated by the United Nations falls on October 31.
— This year's theme was: "Financing a sustainable urban future for all".
— With the latest additions, the UCCN now counts 350 cities in more than a hundred countries.
— The newly designated Creative Cities are invited to participate in the 2024 UCCN Annual Conference (July 1-5, 2024) in Braga, Portugal, under the theme "Bringing Youth to the table for the next decade".
Beyond the term
UNESCO declares Gwalior the 'city of music'
 Suanshu Khurana writes:
— The city of Gwalior in Madhya Pradesh was added to UNESCO's Creative Cities Network (UCCN) on Wednesday (November 1) for its "strong commitment to harnessing culture and creativity".
— Gwalior gharana, the oldest musical gharana and a significant chapter of Hindustani classical music's history flourished under the aegis of Raja Man Singh Tomar during the 15th century.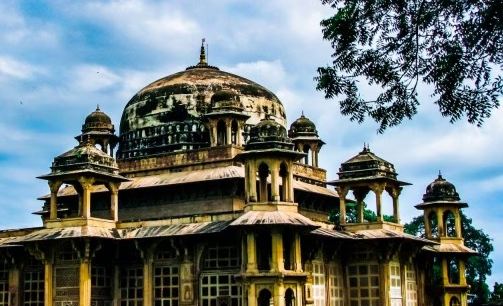 The tomb of famous musician Tansen in Gwalior, Madhya Pradesh. (Photo: Wikimedia Commons)
— Man Singh's great grandfather Dungarendra Singh Tomar, a musician himself, attempted a revival of Indian classical music through academic interest and patronage.
— He is known to have gifted two music treatises in Sanskrit – Sangeet Shiromani and Sangeet Choodamani – to his friend and Sultan of Kashmir Zain-ul-Abdin. The treatises comprised detailed discussions on music and musical instruments.
—  Dungarendra also composed Vishnupadas (songs in praise of Vishnu) with a unique style of singing that he passed down to Man Singh, who ascended the throne in 1486.
— It's also believed that Man Singh invented dhrupad, in a classical genre sense.
— His Horis and Dhamars also became quite popular. The king would take advice from Sufi saints, who were often musicians too. In an attempt to popularise Indian music, he replaced Sanskrit songs with those in simple Hindi.
— Man Singh also wrote Manakutuhala (Quest for Learning), considered the first treatise of music in Hindi, helping a wider audience to understand high art performed in kings' courts. This made dhrupad more accessible, which now comprised Vishnupadas sung in ragas.
— The king also built huge music halls in his palace and held regular music sessions. His music was also popular among Sufis as well as Muslim Sultans.
— Before Hindustani classical music was divided into various gharanas – musical ideologies and systems where the musicians identify with a style either by lineage or by learning and following this style – Gwalior emerged as the first proper gharana of music and evolved under the Mughal rule.
— The initial ustads of the gharana included Naththan Khan, Naththan Pir Baksh and his grandsons Haddu, Hassu, and Natthu Khan.
—  Khayal singing, as we know it today, emerged from dhrupad under the aegis of Gwalior gharana while incorporating the elements of qawwali. Ustad Naththan Pir Baksh was one of the early masters to create khayal — the orderly system of presenting a raga which became extremely popular in the 18th and 19th centuries and remains significant even today.
— What's interesting about Gwalior is the inclusion of Persian words in the pieces and concepts of bandish ki thumri (a more structured style of thumri or love song).
— Interestingly, every artist who emerged from Gwalior gharana sounded different and yet there was a certain unity in the style.
What about Tansen?
—  Mian Tansen born as Ramatanu to a poet and musician was one of Gwalior's early proteges.
— At the beginning of the 16th century, he trained under Swami Haridas, who practised dhrupad but the poetry was dedicated to Krishna instead of Vishnu.
— The famed Sufi saint Mohommad Ghous also had a huge impact on Tansen.
— While learning from Ghous, Tansen understood and honed the Gwalior gharana style and was the court musician for King Ram Chandra Singh of Rewa, Madhya Pradesh, for many years.
— The story of his musical brilliance and knowledge travelled and Akbar invited Tansen to be a part of his court musicians in the Mughal court. A Vaishnava musician, he first refused, but after Ram Chandra insisted he go, he joined the court at the age of 60.
—  Abul Fazl's Ain-i-Akbari mentions 36 imperial musicians, out of which 15 were from Gwalior. Akbar's admiration for Tansen has found much place in popular culture and much of it comes from the writings about the musician.
Who are notable names from the Gwalior gharana?
—  Haddu Khan's son Bade Inayat Hussain Khan (1852-1922), Vasudeva Buwa Joshi, Balakrishnabuwa Ichalkaranjikar (1849–1926) who taught Vishnu Digambar Paluskar who later founded the Gandharva Mahavidyalaya which continues till today, famed educator BR Deodhar and Pakistani singer Farida Khanum among others.
— The generation that came after included Pt Kumar Gandharv, Malini Rajurkar, Veena Sahasrabuddhe, and Dharwad-based Pt Venkatesh Kumar, whose music also has distinct touches of Kirana gayaki among others.
UNESCO names Kozhikode 'city of literature'
Shaju Philip writes:
— The North Kerala city of Kozhikode is home to many promiment personalities of the state's literary and cultural world.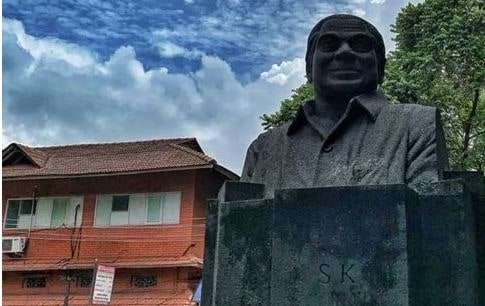 A bust of Malayalam author SK Pottakkad at SM Street in Kozhikode, the subject of one of his most popular works. (Express photo: Nandagopal Rajan)
— The city, where several leading media houses are headquartered, has hundreds of publishing banners and several libraries enriching its literary tradition.
— The first Malayalam novel Kundalatha was born in Kozhikode in 1887. It was authored by Appu Nedungadi.
Several illustrious writers like S K Pottekkatt, Vaikom Muhammad Basheer, Uroob, Thikkodiyan, NN Kakkad, P Valsala, Akbar Kakkattil, Punathil Kunjabdulla and MT Vasudevan Nair have brought laurels for Kozhikode.
— The city has also produced many film and theatre professionals in the last half a century.
Point to ponder:
How UNESCO's tag to cities like Kozhikode draws attention to how urban planning can leverage creativity as a part of development?
( Thought Process: In a rapidly urbanising, deeply polarising world, access and representation are crucial to make cities inclusive. In India after Independence, in cities that were as different as Delhi and Mumbai, Allahabad and Chennai, Kolkata and Vadodara, urban planning laid emphasis on keeping the community at the centre.
But this idea of cities as repositories of cultures is beleaguered in New India, where homogenisation remains a driving impulse and where shiny glass-and-chrome buildings and gated communities determinedly mark their distance from the rest.
For any migrant in an alien city, much of a heaving metropolis remains prohibitively out of bounds. Yet, the only meaningful imagination of a brighter future comes from feeling at home in a space that is far from home.
Brighter economic prospects, affordable housing, yes, but also embracing patches of green that allow a spot of rest or debate; book stores where one can browse even if one cannot buy; a sturdy public transport network; a city centre dotted with museums, archives, theatres, but also other less inhibiting spaces where one can experience a tamasha or a lavani, a nagar sankirtan or a mushaira. A place that forges friendships, evokes ownership, that galvanises and transforms in many different ways.)
Post Read MCQ:
Read the following passage and identify the personality:
It's also believed that he invented dhrupad, in a classical genre sense. His Horis and Dhamars also became quite popular. In an attempt to popularise Indian music, he replaced Sanskrit songs with those in simple Hindi. He also wrote Manakutuhala (Quest for Learning), considered the first treatise of music in Hindi.
(a) Abul Fazl
(b) Mian Tansen
(c) Man Singh
(d) None of the above
Post your answer in the comment box.
Share your views and suggestions in the comment box or at manas.srivastava@indianexpress.com