Let astrology be your stylist this festive season
We all are gearing up for Diwali celebrations, and one essential component about the festival is dressing up. Who doesn't want to don their best clothes for the auspicious occasion? But if you're still unsure what to wear this Diwali, you can let astrology be your stylist.
According to Pandit Jagannath Guruji, when choosing the perfect outfit, astrology offers an intriguing guide — linking specific colours to each zodiac sign. These colours attract positive energies and potentially enhance luck during this festive season.

So, here are your lucky colours as per astrology:
Aries (March 21 – April 19)
For the dynamic and fiery Aries individuals, red and shades of crimson emerge as their beacon of luck. These vibrant hues resonate deeply with the passionate essence of Aries. Donning reds can potentially fuel a surge of confidence and courage, rendering it an ideal choice for this year's Diwali.
Taurus (April 20 – May 20)
Taurus, the embodiment of an earthy and sensual persona, discovers luck in the soothing palette of green and pastel shades. These colours establish a profound connection with nature, promoting stability and harmony. Choosing greens or soft pastels may infuse an aura of tranquility and abundance during the festive revelry.
Gemini (May 21 – June 20)
Recognised for their duality and adaptability, Geminis are drawn towards the vibrant and cheerful colours of yellow and light blue. These shades aptly mirror the lively and communicative nature of Geminis. Embrace the festive fervour by draping yourself in these lively hues, echoing the exuberance of the occasion.
Cancer (June 21 – July 22)
Sensitive and intuitive Cancers are directed toward the serene appeal of white and silver as their fortunate colours. These hues symbolise purity and emotional equilibrium. Wearing whites or silvers might bring about a sense of tranquility and emotional clarity this Diwali.
Leo (July 23 – August 22)
Leos, known for their regal and bold personalities, discover their luck in the luxury of gold and the vibrancy of orange. These colours seamlessly echo their warmth, creativity, and confidence. Wearing gold or shades of orange might amplify positivity and success during the festive celebrations.
Virgo (August 23 – September 22)
With their innate practicality and attention to detail, Virgos find solace in earthy tones and shades of brown. These colours stand as a symbol of stability and grounding, imparting a sense of balance and practicality during the festivities.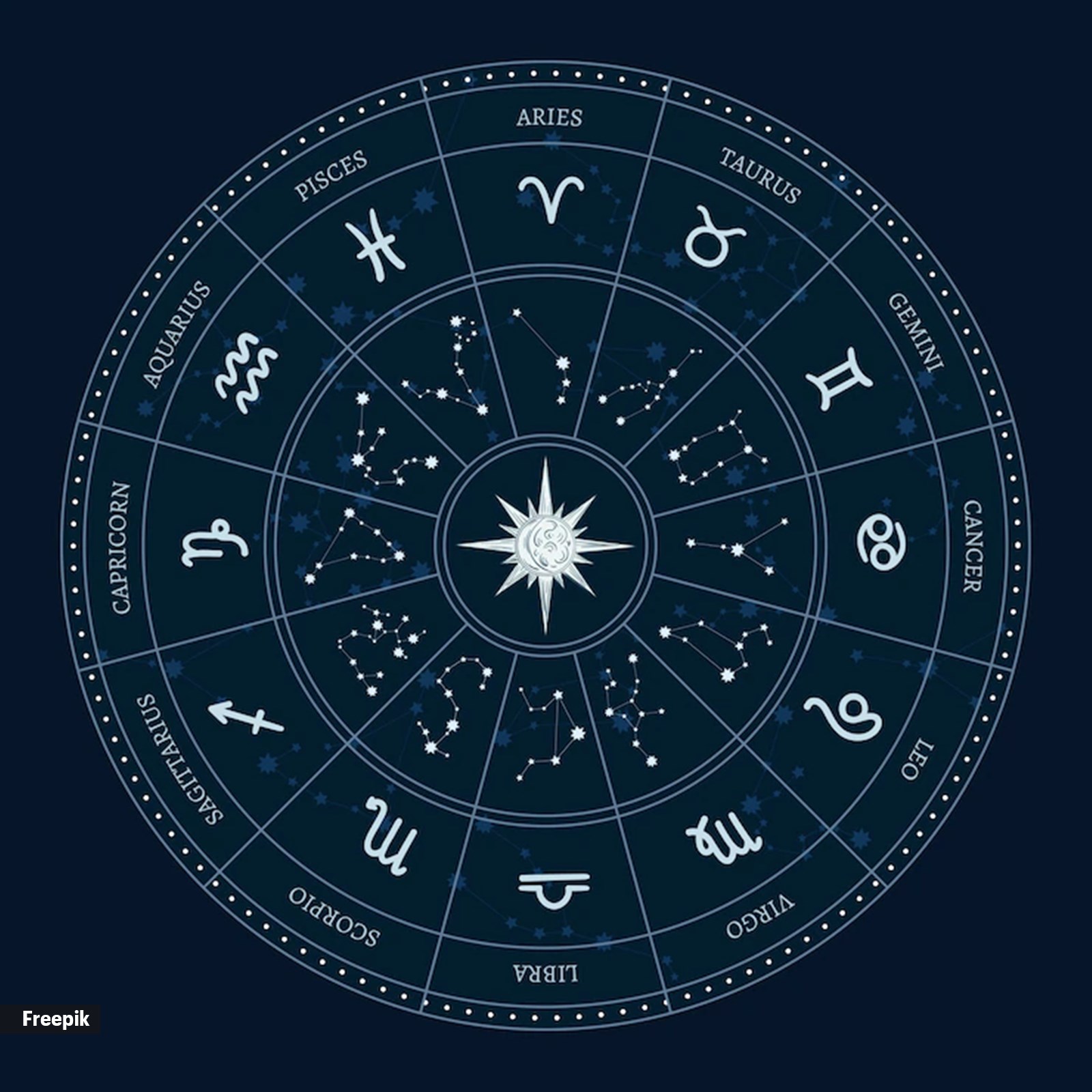 Let astrology be your personal stylist this Diwali. (Source: Freepik)
Libra (September 23 – October 22)
Harmonious and balanced Libras resonate with the hues of pink and light blue. These colors seamlessly reflect their sense of harmony and beauty. Embracing the festive cheer by enveloping yourself in pinks or light blues might amplify the jubilation of the event.
Scorpio (October 23 – November 21)
Intense and passionate Scorpios find solace in the deep reds and maroons. These shades resonate with their deep emotions and strength. Dressing in these shades could enhance confidence and intensity this Diwali.
Sagittarius (November 22 – December 21)
Known for their adventurous and optimistic spirit, Sagittarians find luck in the enchanting shades of purple and blue. These colours echo their quest for knowledge and freedom, inspiring wisdom and positivity when adorned during the celebrations.
Capricorn (December 22 – January 19)
With their practical and disciplined approach, Capricorns gravitate towards the sophistication of black and dark brown. These colours embody their strength and resilience, exuding a sense of power and determination this Diwali.
Aquarius (January 20 – February 18)
Innovative and humanitarian Aquarians favour the electric blues and the allure of silver. These colours deeply resonate with their progressive and futuristic thinking, potentially stimulating creativity and originality when adorned.
Pisces (February 19 – March 20)
Compassionate and dreamy Pisceans find solace in the serene shades of sea green and lavender. These colours reflect their imaginative and empathetic qualities, potentially enhancing emotional balance and intuition during this Diwali.
📣 For more lifestyle news, follow us on Instagram | Twitter | Facebook and don't miss out on the latest updates!