BRS govt's hit Rythu Bandhu scheme has a glitch, leaving seeds of hope for Congress | Political Pulse News
The talk in the fields in Station Ghanpur in Medak Assembly constituency, where freshly harvested paddy is being bagged, is about the Congress's promises.
The ruling Bharat Rashtra Samithi (BRS), they acknowledge, has a lot of schemes. But the Congress is offering more of everything the BRS is providing. Plus, there is a complaint about Chief Minister K Chandrashekar Rao's much-coveted Rythu Bandhu farmers' assistance programme, as voiced passionately by R Veeraiah, a farmer in Ramayampet.

"Why am I angry? My neighbour has 6 acres of land and receives Rs 60,000 as Rythu Bandhu per year. I own 1 acre and receive Rs 10,000. My neighbour does not even cultivate his land, gives it on lease, but he still gets richer every year. Why is the government neglecting the poor while rewarding the rich?"
It's not KCR though (as the CM is popularly known) whom Veeraiah directs his anger at, but his local MLA, Padma Devender Reddy. "The local BRS MLAs have done nothing and just watched the rich landlords get richer. Padma could have told KCR there are more small farmers in the district and got them more investment support, but she did not do it," he says.
The group of about 15 farmers and farm workers with Veeraiah are all agreed that whichever party forms the government, welfare schemes are here to stay – it is just a matter of which party will give more. And they are willing to try the Congress come November 30, after nearly a decade under the BRS or the Telangana Rashtra Samithi (TRS) as it was earlier known, ever since the new state was formed in 2014.
"We will consider which party makes our lives easier, and vote accordingly," says Lachmamma.
The KCR government introduced the Rythu Bandhu scheme in May 2018. Under the flagship scheme, Rs 5,000 is provided per acre per farmer each season, or Rs 10,000 per acre every year. In 2018-19, 50.25 lakh farmers were covered under the scheme. In 2023, the number of farmers covered is up to 70 lakh, mainly due to the fragmentation of land among families.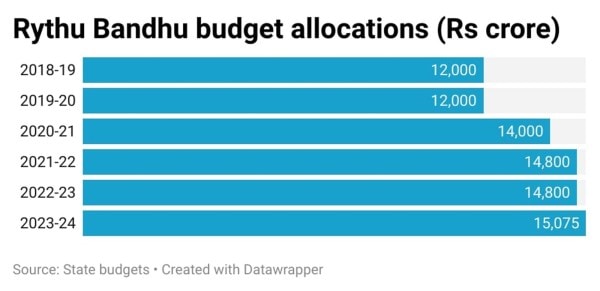 According to the 2022 State Statistical Report, marginal (less than 2.47 acres) and small farmers (2.48 to 4.94 acres) account for 91.33%, or 59.36 lakh, of Telangana's farmers. Those with land holdings more than 9.89 acres make up just 1.39%, or 90,449, of the total farmers.
As per disbursements in December 2022-January 2023, 22.55 lakh farmers owning less than an acre of land received a total of Rs 642.52 crore. The 16.98 lakh farmers with 1 to 2 acres received Rs 1,278 crore, 10.89 lakh farmers with 2 to 3 acres received Rs 1,131 crore, 4.89 lakh farmers with 3 to 4 acres received Rs 1,047 crore, 1.52 lakh farmer with 4 to 5 acres received Rs 265.18 crore, and about 50,000 farmers with 5 to 6 acres got Rs 136.54 crore.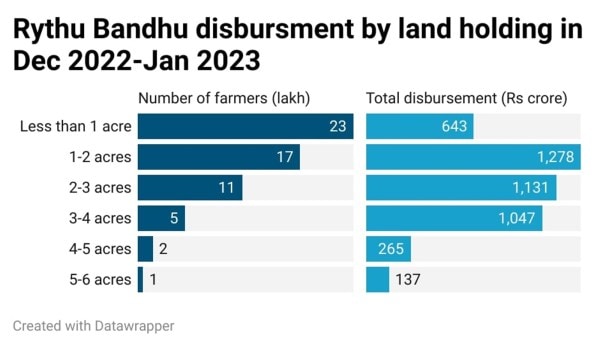 At its launch, the government allocated Rs 12,000 crore for the scheme. The budget for this Rabi season is Rs 7,676 crore.
BRS working president K T Rama Rao, who is also KCR's son and a minister in the government, says they too have come to realise that the design of the scheme was inadvertently skewed towards big farmers, and are planning a review. Sources in the BRS said the scheme's eligibility may be restricted to farmers owning up to 4-5 acres if the party returns to power for a third time.
Agriculture Minister S Niranjan Reddy argues that despite the problems with how the scheme was designed, about 92.5% of beneficiaries under Rythu Bandhu were still small and marginal farmers owning less than 10 acres of land. Besides, Reddy says, the Rs 10,000 directly going into their bank accounts for the year was better than the Centre's Pradhan Mantri Kisan Samman Nidhi (PM-Kisan), under which every agricultural household with less than 2 hectares of cultivable land gets Rs 6,000 per annually.
In its poll manifesto, the BRS has promised to increase the scheme's annual benefit to Rs 16,000 per acre in the next five years. The Congress has bettered this by promising Rs 15,000 per acre for farmers and Rs 12,000 to tenant farmers every year immediately on forming the government.
Near Raghunathpally in Station Ghanpur, P Naresh, who makes iron grilles, is also looking at the Congress, saying it is more likely to fulfill its promises.
"If an Opposition party promises more than the ruling party, that is better. Voters must encash on this race for more freebies, more benefits, and more promises, and vote for that party. The BRS is struggling to find money to fund welfare schemes. The Congress is a national party, maybe a Congress government can find more funds," Naresh reasons.
In Narsapur, an Assembly segment in Medak district, V Satiaiah, who is also a farmer, wants the next government to give him more old-age pension as well as Rythu Bandhu benefits. "Had KCR restricted the number of acres eligible for Rythu Bandhu, more funds would have been available for small farmers. Instead we see rich landowners buying new cars or adding new floors to their houses from the funds," Satiaiah says, adding: "There is a lot of talk about the Congress this time, let's see."
In Venkatraopet village, M Satyanarayana, a small-holding farmer who is thankful for the Rythu Bandhu funds and old-age pension since the schemes were launched, is also looking at the Congress. Similar voices, from small farmers, pensioners, rural women are heard across Medak.
This discontent is worrying for the BRS, as it had swept the undivided Medak district in both 2018 (9 of 10 Assembly seats) and 2014 (8).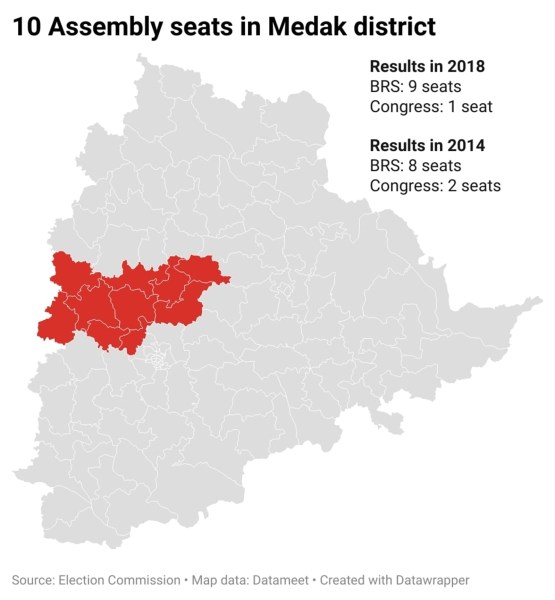 The BRS's two-time Medak MLA Padma has started reaching out to the small farmers. "I vow that if re-elected, I will ensure small farmers receive more financial assistance. Several BRS legislators have already conveyed it to our top leadership. This injustice shall not continue," she says.
Palla Rajeshwar Reddy, chairperson of the Rythu Bandhu Samithi and the BRS candidate from Jangaon, adds that while he acknowledges some problems with the scheme, they will not hurt the party. "I don't think it will affect the BRS's chances of making a clean sweep for the third time… Small farmers don't receive only Rythu Bandhu benefits, but also crop insurance, life insurance, while some of them additionally get pensions, Dalit Bandhu. It is not that everyone is turning against the BRS," says Palla, who is currently an MLC.
However, for now, the expectations are outstripping what the BRS has to offer.
In Station Ghanpur constituency's Nellutla village, a group of women sitting outside their homes watch BRS candidate Kadiyam Srihari's convoy pass by. Pointing to the small houses in the village, Renuka, a farm worker, says: "Not a single new house has been constructed in this village with government assistance in the last 10 years. We are struggling to pay off farm loans. KCR promised to waive them, but did not. The bank people harass us daily. We keep hearing of BRS schemes, but except a small amount of Rs 5,000 from Rythu Bandhu once every six months, we have not seen anything."