Cricket World Cup: David Miller valiant hundred in losing cause embodies South Africa's tragic knockout history | Cricket-world-cup News
The most enduring David Miller image featured none of the five sixes or eight fours he bludgeoned. Or the wild shriek that accompanied his hundred. It came the ball that ended the innings that would define his career, one that would embody the tragicness of a South African batting hero and his doomed pursuit of an elusive goal.
Miller watched in agony his hit — the bat had slipped off his palms at the point of impact — nestle in Travis Head's palms. Distraught, he slammed his helmet with the bat, as he staggered back to the pavilion, in the sweat of an attritional hundred and in the tears of failing to guide his team to a bigger score than the 212 they mustered.

Follow all the action from the Cricket World Cup 2023 on our special World Cup section. You can also find the latest stats, like the top scorer and the highest wicket-taker of the current edition, upcoming World Cup fixtures and the points table on the site.
Some of his adversaries shook hands; some put their arm around him, the crowd squealed his name. Impassively, he lifted the bat and passed through a cavalcade of hugs and handshakes. A shower later, he would return to the dug-out and watch the replays of his dismissal. He was not satisfied with a hundred, when he could have perhaps stretched the innings further. He kept shrugging his head, his face still sombre, his mind inconsolable.
It was a rare sight, because Miller is seldom expressive. His father Andrew had once told this newspaper: "You don't know whether he has scored a hundred or gone for a duck. He won't brag about a hundred or mourn a zero. He takes both as part of life and moves on."
But this was different, the stakes were higher than probably any of the games he had ever played. Against Australia. In a World Cup semifinal. The millstone of underachievement tied around the team's neck and pulling them down with the force of gravitational pull. He was battling the past. The present too — the bowlers and elements, which were tough enough.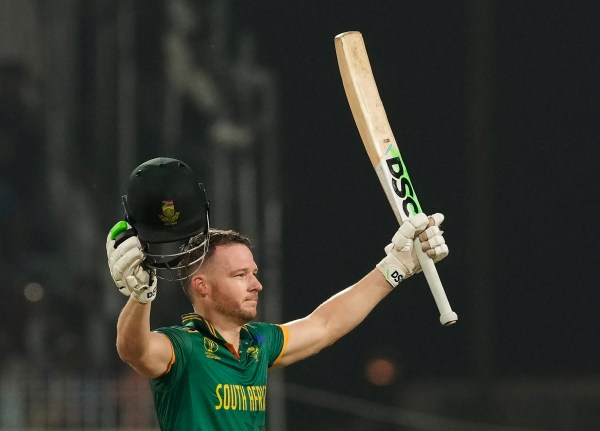 Kolkata: South Africa's David Miller celebrates his century during the ICC Men's Cricket World Cup 2023 second semi-final match between South Africa and Australia, at the Eden Gardens, in Kolkata, Thursday, Nov. 16, 2023. (PTI)
When he united with Heinrich Klaasen with South Africa tottering at 24/4 after 11.5 overs, the overhead conditions were sinisterly grey, Josh Hazlewood and Mitchell Starc were whipping up an apocalypse. Miller would have returned to the pavilion first ball, but for the outside edge that fell tantalisingly short of first slip. A few balls later, he almost spooned a catch to Hazlewood at mid-on, but for the ball to drop in front of the fielder and dribble for another four. Pat Cummins grimaced; David Warner snarled. Miller would feel like it was an inescapable crucible of fire.
But he didn't wither, he didn't flinch. He knew he is not so much an accumulator as he is an aggressor. But he didn't let the pressure of dot balls pile on him. He was like a patient birdwatcher, spending hours behind the binoculars, waiting for the bird he wanted to spot. Off the first 28 balls he faced, 18 were dots, but he was still striking at a rate of 95 or thereabouts. His logic in the direst hour was simple— wait for the right ball to strike. Strike he would, eight fours and five sixes, that is 62 off his 101 runs.
Calm and composed
None of the strokes were wishful swipes, but crisp, methodical strikes, accentuated by the most brutal of bat-swings. He coils onto the back-foot and uncoils those muscular arms of his, the path of the bat from the back-lift to the flourish traversing a swift straight path. He has arguably the most potent bat-swing in cricket. To go by his father Andrew's reminiscences, he was born to swing the bat straight. The senior Miller had gifted him a plastic golf set when he was three and gently rolled a rubber ball to him, and with a fluid straight swing of the miniature club, David swung it over his father's head. He would repeat it to his startled father's joy.
But it was a quote of his father that went into stereotyping him as just another slugger of the cricket ball. After his son's early exploits in the IPL, he would say: "If it's in the arc, it's out (of) the park."
However, Miller has often proved that he was more than just a lusty striker of a cricket ball. He has the nous, nerve and skill to hold an innings together, ride a storm and then whip up one of his own. The succession of wickets on Thursday perhaps shackled him from transforming into a full-blown storm, but he latched onto even the slightest of mistakes from Australia's bowlers. A trifle full, as Adam Zampa often was, and he would thump it down the ground. A wee bit short, he would lunge on the back-foot and flex the forearms to belt it through mid-wicket. He could not manipulate the gaps for singles, but ensured that he did nothing silly and survived.
He alone frustrated Australia, for he beat every plan of theirs, either with his flashing blade or his impenetrable defence and grit. He emphasised that the soul of his batting is power, but it is not power alone that makes him a dreaded batsman. His coach Bechet hates the word "power".
"It's explosiveness," he would say. Explosive and adaptable too. Miller has scored runs in Australia, England, New Zealand, West Indies and the subcontinent. He has adeptly dealt with the varied challenges that confront a middle- and lower-order batsman. At No 4, he averages 41,5; at 5, 49; and at 6, 40. Yet, he is widely unsung and pigeonholed as white-ball biffer. Biffing alone cannot have yielded him 4,446 runs at 42.84.
But in the mind of the 45,000-odd crowd he was still the Miller of the IPL, the supposed dasher. So they would get impatient when he blocked or ran a single at the start of the innings. But gradually, they would come to appreciate the circumstances of this knock, and they would fully get behind him. And they burst into a collective roar when he completed his hundred, smearing Cummins over mid-wicket. He would celebrate with a roar himself. An attempted repeat next ball ended in the hands of Head and Miller's helmet thrashing, plunging him into misery. But the knock would be stuff of South African cricketing folklore, despite him ending up as a tragic-hero.