Daily Briefing: Australia's World Cup win; an Express Investigation into fraud loan apps; and more | Live News
1) World Cup
What was supposed to be the day of India's coronation, turned out to be the night Australia seized the crown back from England. Sandip G writes on 'Australianism' — the triumph of Australia's indefatigability.
There will be a billion post-mortems of the loss, around India, in the coming days but there are enough cricketing reasons to ponder. At the core of every World Cup final chatter will be an acknowledgment that India, on the final day of the tournament, bumped into a team that had a plan in place, implemented it to a T and hit the ground sprinting.
In his weekly column, Udit Misra explains why the law of averages had nothing to do with India's loss.
2) Express Investigation
With neither the government nor regulators looking over their shoulders, fraudulent loan apps are abusing a confluence of the most popular online platforms — Meta, Google and Apple app stores, and WhatsApp — to advertise and distribute their dubious apps and eventually harass users for payments. Read Soumyarendra Barik's report.
3) From the Front Page
As many as 41 workers have been trapped inside the under-construction Silkyara-Barkot tunnel in Uttarkashi since last Sunday. With rescue efforts undergoing several setbacks, authorities have come up with a five-point plan that involves drilling operations from three sides.
4) Express Explained
With over 60% of India's consumption requirements being met through imports, which could rise further, there are concerns of vegetable oils going the petroleum products way. Harish Damodaran explains the increase in edible oil imports, and why this may spell trouble.
5) Idea Exchange
In the latest edition of Idea Exchange, Dr Randeep Guleria, a renowned pulmonologist and advisor to various global and national bodies, talks about the long-term impact of air pollution on one's health, a dire need for a change in policy and effects of long Covid.
Meanwhile, in our Opinion section today, Ramesh Chand and Shweta Saini write on a plan to manage stubble burning with "market avenues for crop residue, legal backing against polluting practices and administrative support."
Before you go, check out today's Delhi Confidential: Union Rural Development Minister Giriraj Singh was in Ghaziabad on Sunday to meet an activist who was fasting for several days, demanding a law to control population. Singh, who himself is a strong votary of such a law, was accompanied by BJP's Meerut MP Rajendra Agrawal.
🎧 Tune in to today's episode of the '3 Things' podcast, where we unravel the crucial factors that will shape the election outcomes in Madhya Pradesh, and the strategies employed by both parties to secure the reins of power.
Until tomorrow,
Sonal Gupta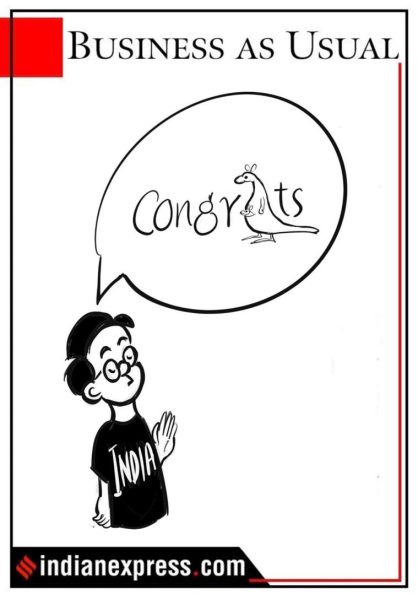 Business as Usual by E P Unny